Shaadi.com: Is the world's oldest and most successful matrimonial service that has been trusted by Asians all over the world to help them find their soulmates.
Shaadi.com Profile
Shaadi.com  was created for matrimonial minded Indian people living outside of their home country to provide a superior matchmaking experience by expanding the opportunities available to meet potential life partners. Since then they have created a world renowned service that has touched the lives of millions of people all over the world. Since 1997, Shaadi.com has been matching Indian singles and has become one of the top five web sites in all of India (as of 2008). There are currently more than 10 million Asian members with 6,000 new profiles being created every day. Shaddi.com reports that since the site went online. they have been responsible for introducing life partners that have resulted in over 1.3 million marriages. Most members tend to be from the middle-class with about 70% of them from India (as of 2008). Shaadi.com is also unique among dating services. The have over 150 Shaadi.com Centers in 87 of India's cities. This allows both parents and their children to review together potential matches with a Shaadi.com relationship expert.
How does it works?
Those looking for their perfect match can do so by signing up for free and creating a profile that lists important details such as caste, profession, family history and astrological sign. Members can then search by location, keyword or profession. While Standard Memberships are provided with a number of features, a Premium Membership grants unlimited use of email and chat. This allows for better interaction with potential matches. he site provides a telephone number and live help for those who may need any extra assistance. A profile can be placed by an individual or family member; however it must first be approved by moderators. 
If you need help when registering or while using the service, your question will almost certainly be answered in the comprehensive help section which includes an explanation for all sections of the website. As part of one's membership, they have access to 24/7 customer support which can not only help you with any technical issues on the site but is also there to provide guidance on profile set up as well as quality assurance. Shaadi.com has over 150 brick and mortar Shaadi.com Centers in 87 Indian cities. This feature allows the profile users to review the potential matches with a Shaadi relationship expert. This service is also set up mainly because in Indian culture parents are very involved in finding their son/daughter a suitor. The in-person center allows parents and children to go over the dates on the website and makes sure that the parents are not left out of the matchmaking process. In addition, parents are allowed to login to the service and aid their child in the selection process.
How much does it costs?
The price for a membership on Shaadi.com ranges from $0.00 all the way to $635. The types of services available vary drastically from each end of the price spectrum. As one would assume, the free membership is very limiting and really only allows one to create a bare-bones minimalist profile and only do a limited search. In addition, one is un-able to contact other members with the free version.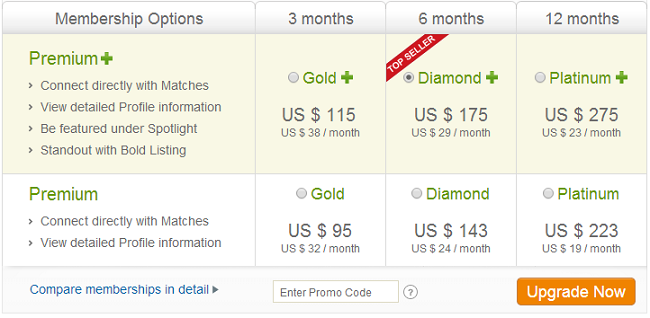 Contrary to the free version, the most expensive version allows one to use all the features of the Shaadi website and also comes with one's very own matchmaking consultant which basically guarantees that one will find a match. On average, the cost for one month on the site is ~$29, but the site requires its users to purchase the membership in three month increments, which means one can purchase 3, 6 and 12 month memberships respectively.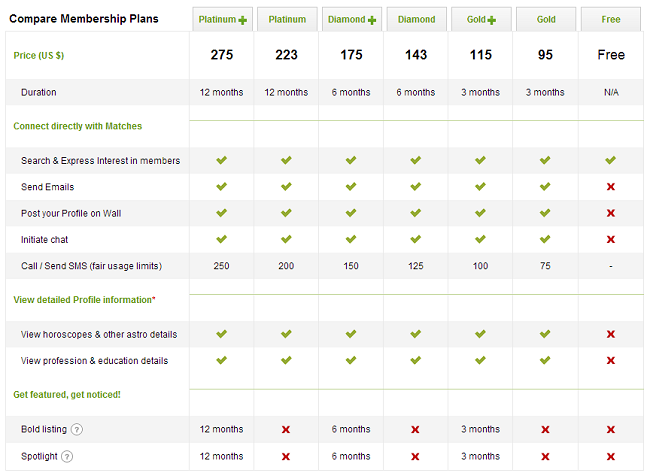 Payment is very easy though as Shaadi accepts all major credit cards, net banking, checks and demand drafts and one can also even drop payments at convenient locations in India.
[ut_button color="red" target="_self" link="http://www.shaadi.com/" size="medium" ]VISIT FULL WEBSITE[/ut_button]