Hinge.co: is a dating app connected to Facebook that matches you with 6-12 people every day that are Facebook friends of your Facebook friends.
Hinge Profile
Hinge.co likes to call itself the "anti-Tinder." At first glance, it looks very much like Tinder. But instead of random strangers, Hinge matches only users who share Facebook friends.  Hinge is available for both iPhone and Android, and is a Facebook-based dating app. Because of the competition, Hinge needs to distinguish itself in this already-crowded market, and thanks to some great word-of-mouth and a slow city by city roll-out, it has made a name for itself.  Hinge relies on your friends' networks to find love. Because of this, it heavily markets to women, who are concerned with safety when they are using a dating app. In fact, the app can boast a roughly 50% man-to-woman ratio, something unique in the online dating world where men seem to dominate. Also, the average age range of Hinge users skew older – 23 to 36, and 99% are college-educated.
How does it works?
The app is easy to download and there is no real profile creation, including choosing photos and expressing your interests. Hinge does all of that for you, based on what you say on your Facebook page. This is great for verifying you're a real person and for cutting down on the time it takes to create a profile, but it takes away an element of creativity that is important in the online dating process. People want to know who you are and how you express yourself in a dating situation, not just in everyday life.
Hinge does allow you to make adjustments when it comes to your dating preferences. At every opportunity, it asks if you want to invite friends to join (get used to this feature). It also asks if I want to expand my age range or radius. It is pretty generous with both, my matches being anywhere from age 30 to 65 and up to 25 miles away until I adjusted the settings. Also, it doesn't take into account your relationship status – I guess assuming if you join you are single. My Facebook page states that I'm married, but I was able to join and be matched. Relationship status isn't something you can see on anyone's profile.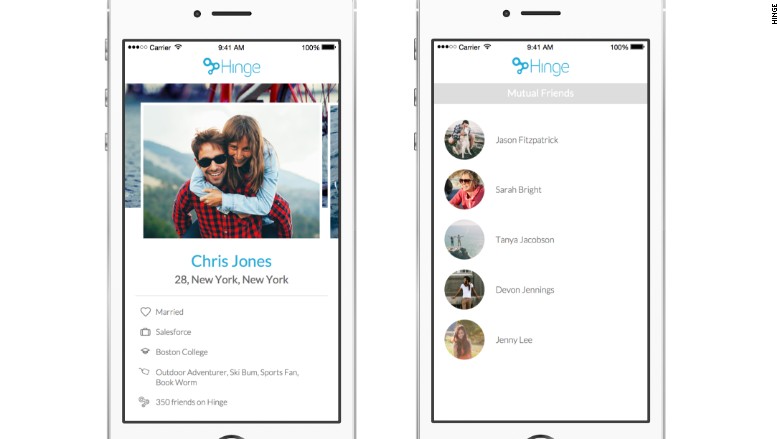 Once you've linked your Facebook profile to your Hinge account, you offer up a limited bit of information before getting into the matchmaking process. You'll provide your zip code and intentions – if you're using the app to meet a match or just looking to see how it works – to start. Every day at noon, the app sends a list of potential matches culled from one's Facebook network.
5 things you should know about Hinge
account verification via Facebook

user must have at least one Facebook friend who is already using the app

matching restrictions – max. 15 matches per day

no profile creation – photos and other information are taken from Facebook, user can't upload anything

doesn't take into account relationship status.
How much does it cost?
Free download and membership with a Facebook account . Membership costs last confirmed May 12, 2014. Please check Hinge for most recent pricing
[ut_button color="red" target="_self" link="http://hinge.co/home" size="medium" ]VISIT FULL WEBSITE[/ut_button]