Beautifulpeople.com:
This website accepts members according to how physically attractive they are, or more precisely how physically attractive existing members rate them.
Beautifulpeople.Profile
Beautifulpeople.com has as main page physically attractive people that are using exotic animals as their own personal accessories. One might get the sense that only cool good-looking people are allowed on this site and everyone else is unwelcome. On Beautiful People, it's the current members that control who is allowed to become a member and who isn't physically attractive enough to join in the . As the name of the site suggests, BeautifulPeople is a site who's aim is to bring together people based on their looks alone. The site has a voting system whereby prospective members must submit a good quality photo of themselves and wait while other members vote them in or out.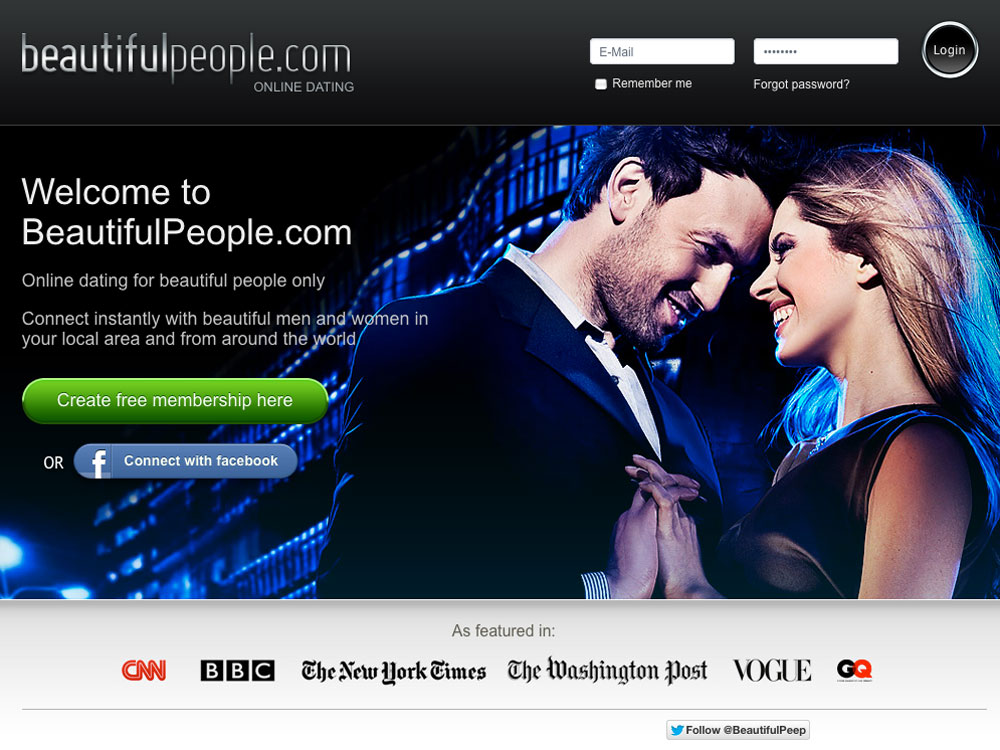 How does it work?
This online dating site does exactly what it says on the tin and only people deemed beautiful enough will be allowed to join. To become a member, applicants are required to be voted in by existing members of the opposite sex. Members rate new applicants over a 48-hour period based on whether or not they find the applicant 'beautiful'. Your first step in gaining entry into Beautiful people is to upload a photo so others can assess your beauty. You can't proceed any further until you upload a photo. With a site so focused on beauty, this is a number one priority. Then you need to find your country on a drop-down menu because Beautiful People is available to users that are outside the United States. To set your location, a large map will pop up and you have to move a green pointer to your current location. Once your current location has been set, you can move on to building your profile. A screen of drop-down menus pops up and you are then to select the answer that best describes your appearance and your lifestyle. There are drop-down menus for your physical characteristics, smoking preferences, relationship status, field of work and education. Then you need to select the reason that you want to be a Beautiful People member like for fun and flirts, business networking, love, social networking or because you want to gain invitations to exclusive parties and events. An activation e-mail will be sent to you so you can activate your account and then you will be taken to your profile. At this point you are considered an applicant and other Beautiful People members will be deciding your fate.
Members rate new applicants over a 48-hour period based on whether or not they find the applicant 'beautiful'.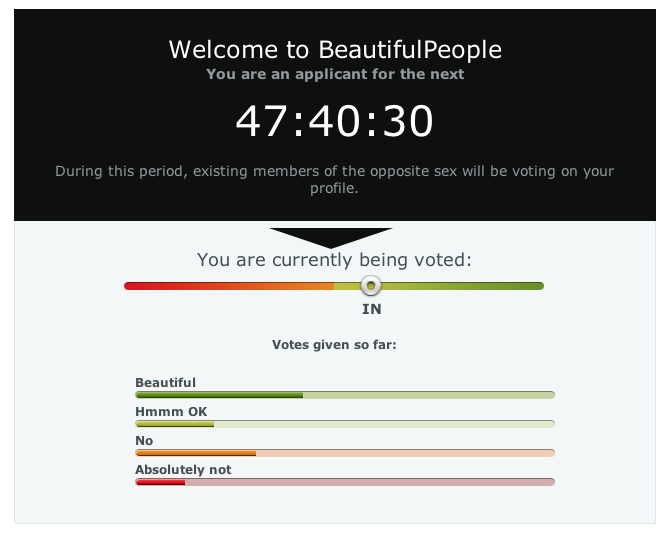 How much does it cost?
The site is free to join and to post your picture. However, in order to view the voting process and initially access the site, you need to pay a fee of $1.99.
And if you buy a 6-month membership, you'll get a reduced price of £7.50 per month.
[ut_button color="red" target="_self" link="https://www.beautifulpeople.com/en-GR" size="medium" ]VISIT FULL WEBSITE[/ut_button]